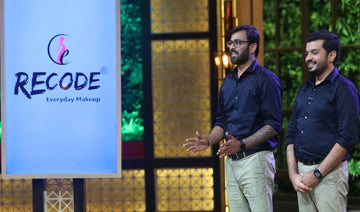 Affordable Luxury


It's time to Recode your glam game with Recode Studios !
We are team Recode -A group of seasoned cosmetic experts passionate and committed to drive excellence in the beauty and personal care industry. We have been instrumental in combining quality with creativity in each product we offer to bring about a Universal Studio Arte in the Industry. As our experience in handling the designs, production and business management of cosmetic products across the globe runs into a decade now.

We see ourselves as the energy leaders spearheading the need for bringing premier quality products to you. Our association with the leading manufacturers from across the globe, majorly Germany,Taiwan and Thailand boosts our confidence further to promise a product quality which is beyond excellence.
We are proudly
Indian ❤️
Personalized Glow Mastery

Tailored solutions for every skin,
unveiling individualized luminosity.

Tech-Infused Beauty Evolution

Fusing tradition with innovation
for a cutting-edge cosmetic experience.

Empowering Confidence Through Beauty

More than products
- a journey to boost self-assurance and empowerment.