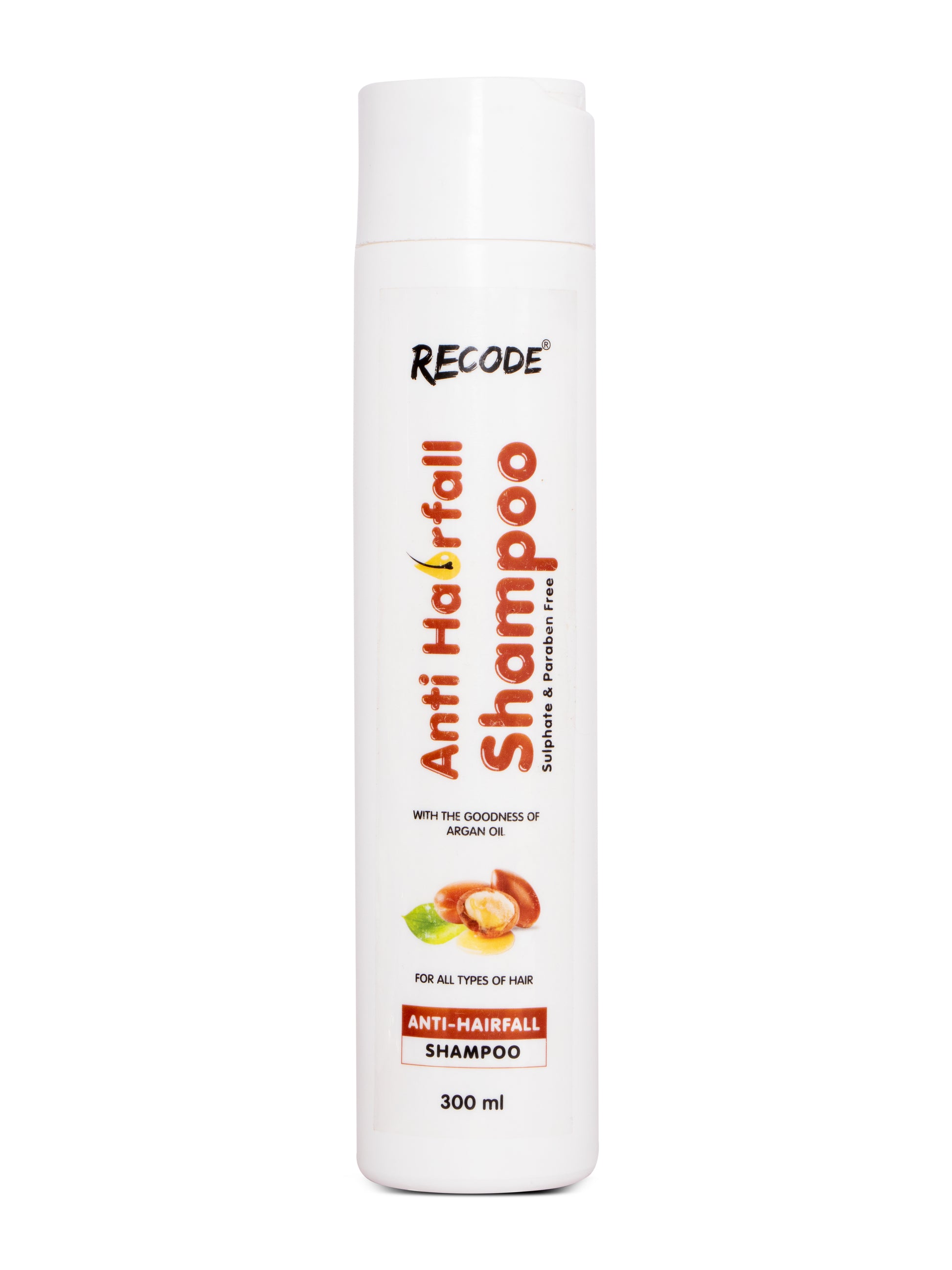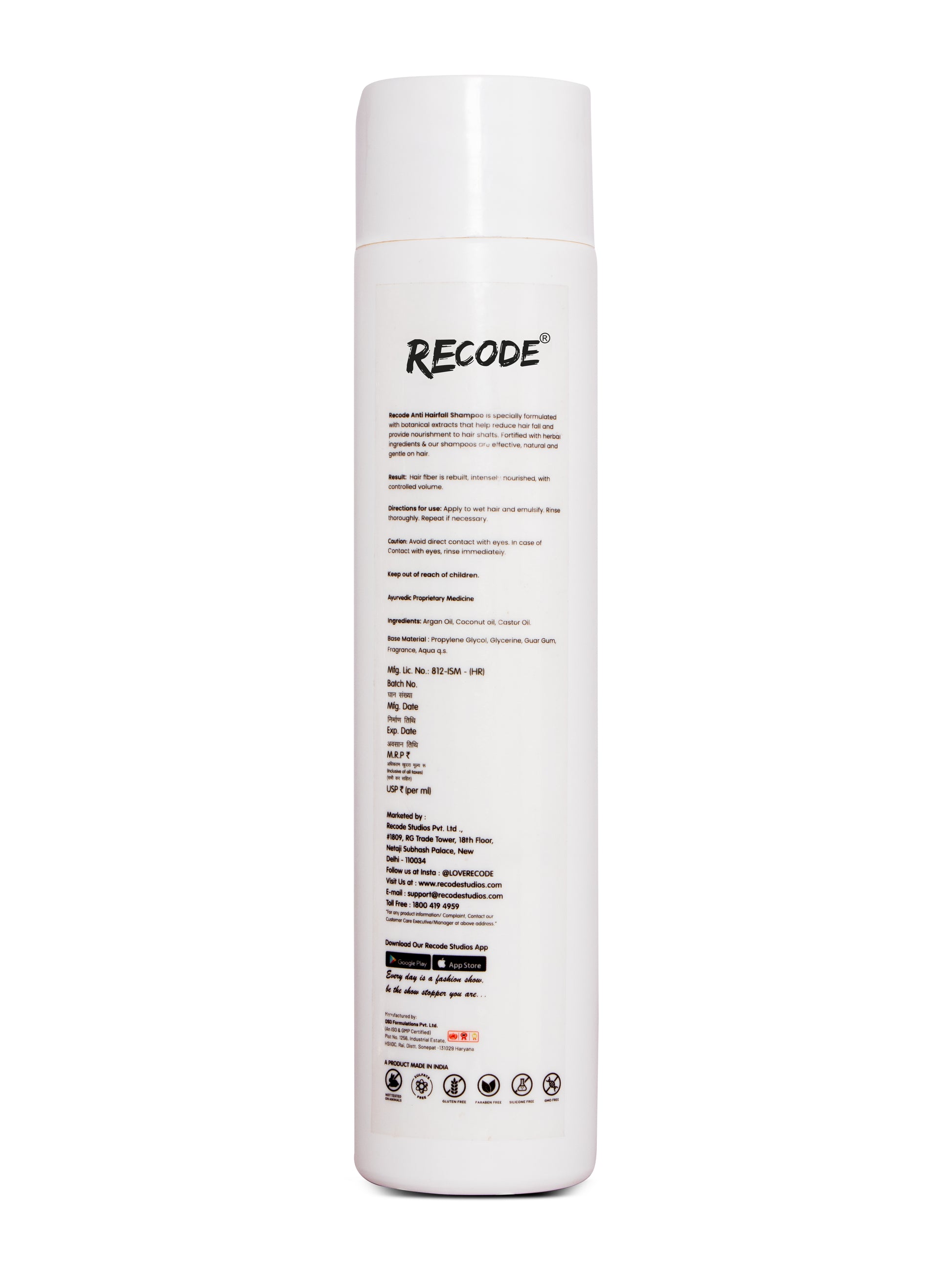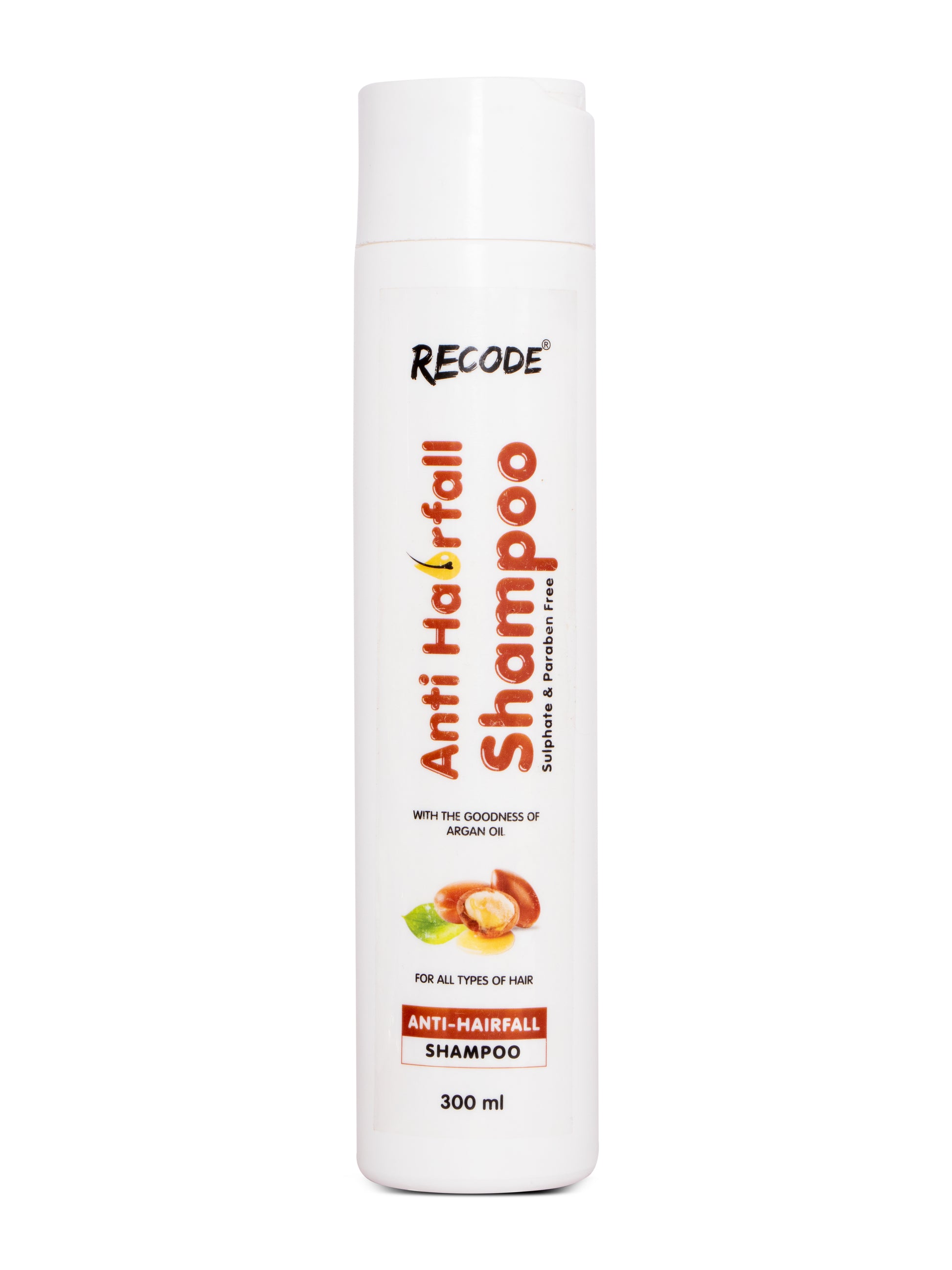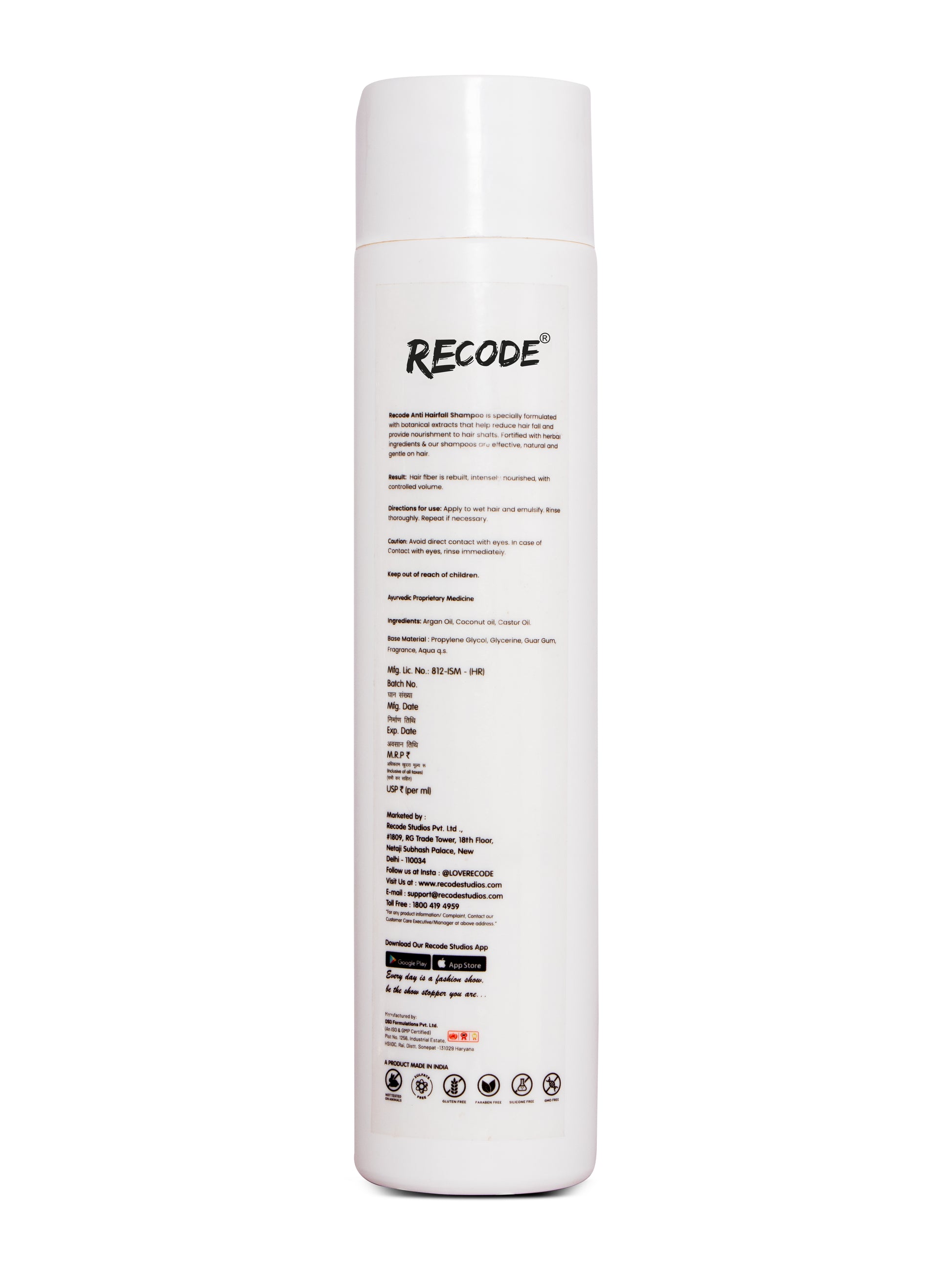 Recode Anti-Hairfall Shampoo - 300ml
Sale price
Rs. 449.00
Regular price
Rs. 499.00
Tax included.
Guarantee safe & secure checkout
Estimated Delivery

Dec 15 - Dec 19

Shipping Information

Free shipping on orders over 500 INR.
50 people are viewing this right now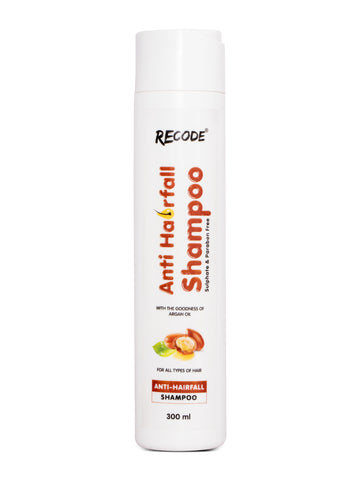 Recode Anti-Hairfall Shampoo - 300ml
Sale price
Rs. 449.00
Regular price
Rs. 499.00
Product description
Shipping & Return
Recode Anti-Hairfall Shampoo is a specially formulated haircare product that combines the power of Argan Oil with other key ingredients to combat hair loss and promote healthier, fuller-looking hair. This innovative shampoo helps to strengthen the hair follicles, nourish the scalp, and reduce hair breakage, resulting in reduced hair fall and improved hair volume.
Key ingredients
Argan Oil-: Moisturizes, adds shine, protects hair, protects from breakage and increases elasticity
Coconut Oil-: coconut oil moisturizes your hair. Since it's easily absorbed, it works better than other oils at repairing dry hair. Keep in mind that coconut oil alone may not be effective as a shampoo to cleanse hair, but as a pre-shampoo treatment, it will condition hair.
Castor oil-: It increases blood flow to the scalp, which promotes healthier hair. Castor oil boost hair growth up to five times the usual rate. It can moisturize a dry, irritated scalp. Castor oil's antibacterial and antifungal properties can reduce dandruff
Key Features and Benefits:
Hair Strengthening: Recode Anti-Hairfall Shampoo contains Argan Oil, which is rich in antioxidants, vitamins, and essential fatty acids. This potent ingredient helps to strengthen the hair strands, reducing hair breakage and promoting healthier, more resilient hair.
Nourishes the Scalp: The nourishing properties of Argan Oil penetrate deep into the scalp, providing essential nutrients that promote a healthy scalp environment. This helps to improve hair follicle health, reduce inflammation, and encourage strong and vibrant hair growth.
Reduces Hair Fall: Recode Anti-Hairfall Shampoo is specially formulated to target hair fall. The combination of ingredients, including Argan Oil and other herbal extracts, helps to minimize hair shedding, breakage, and thinning, resulting in reduced hair fall and improved hair density.
Enhances Hair Volume: By strengthening the hair strands and reducing hair fall, Recode Anti-Hairfall Shampoo helps to improve hair volume and thickness. The shampoo reduce hair fall, Recode Anti-Hairfall Shampoo helps to improve hair volume and thickness. The shampoo adds body to the hair, creating a fuller and more voluminous appearance.
Hydrates and Conditions: The presence of Argan Oil in Recode Anti-Hairfall Shampoo provides deep hydration and nourishment to the hair, leaving it soft, smooth, and shiny. The shampoo also helps to improve hair elasticity and prevent dryness and frizz.
How to use
Apply to wet hair and emulsify. Rinse thoroughly. Repeat if necessary.
Result-: Nourishes dry and dull hair deeply and help to restore its shine for a longer time
Caution: Avoid direct contact with eyes. In case of contact with eyes, rinse immediately.

All prices on our site are displayed in Indian Rupee (INR), and will be charged in Indian Rupees. For delivery within India we use a ground based courier service, as liquid products cannot be sent by air.
Shipping within India can take up to 3-4 working days depending on what state or territory you live in and it takes 3 to 20 days to deliver your products depending upon services of third party courier company we use. 
COD service may not be available for certain pin codes. In such cases, our customer service team will be in touch with you while processing your order.

We do not currently ship internationally. However you may have your purchase delivered to any address within India.
Shipping Rates :
₹ 1 to 99.00 for COD ₹ 99.00

₹ 1 to 99.00 for for Prepaid ₹ 99.00

₹ 35.00 flat shipping charges on prepaid order from ₹100 to 498.00.

₹ 75.00 flat shipping charges on order below ₹ 99 to ₹ 499.00 for COD Orders.

₹ 35.00 flat shipping charges on order from ₹ 500.00 to 999.00 for COD orders.

Free Shipping : on all prepaid orders above ₹ 499.00

Free Shipping : on all orders above ₹ 1000.00 or above