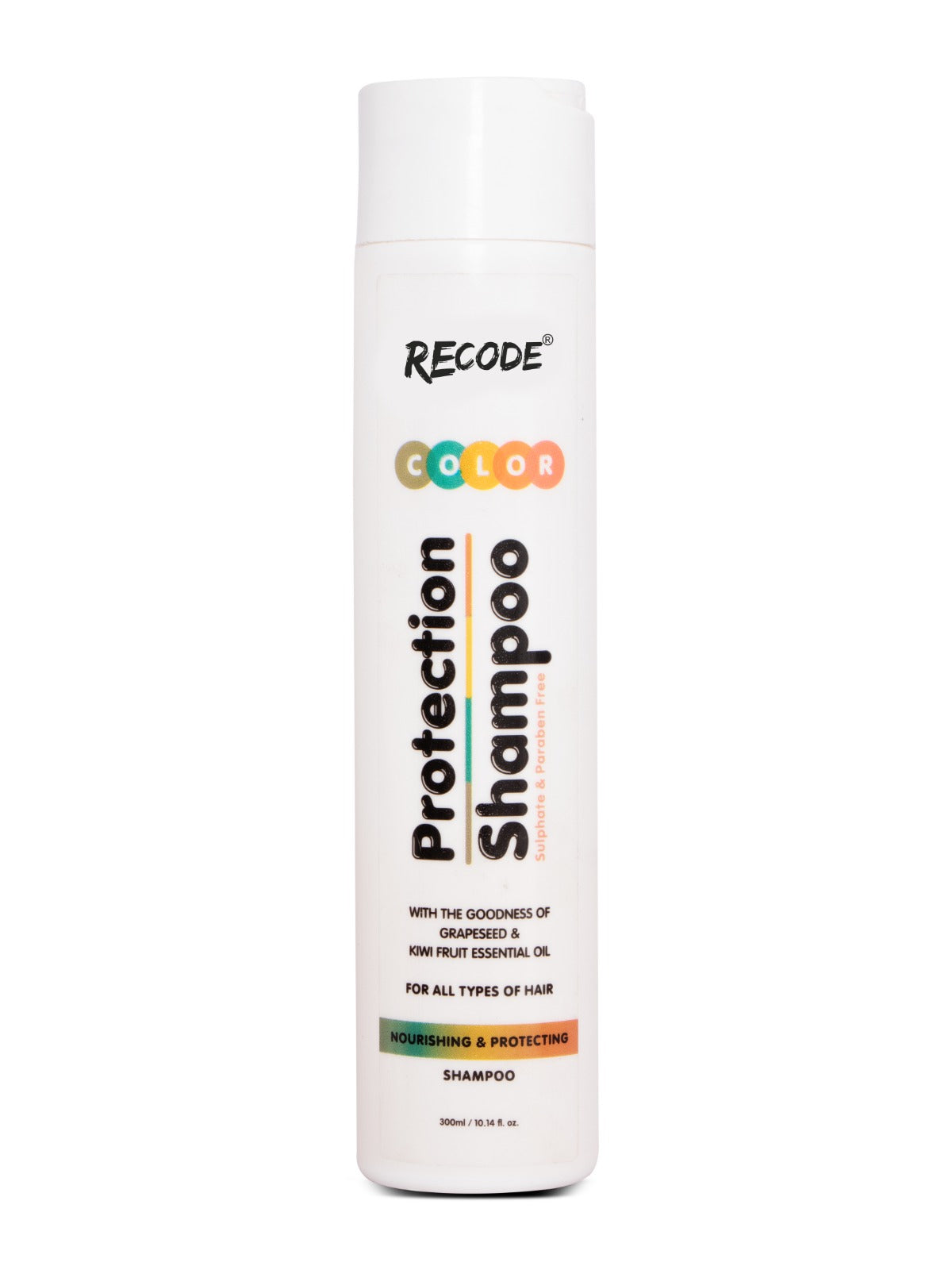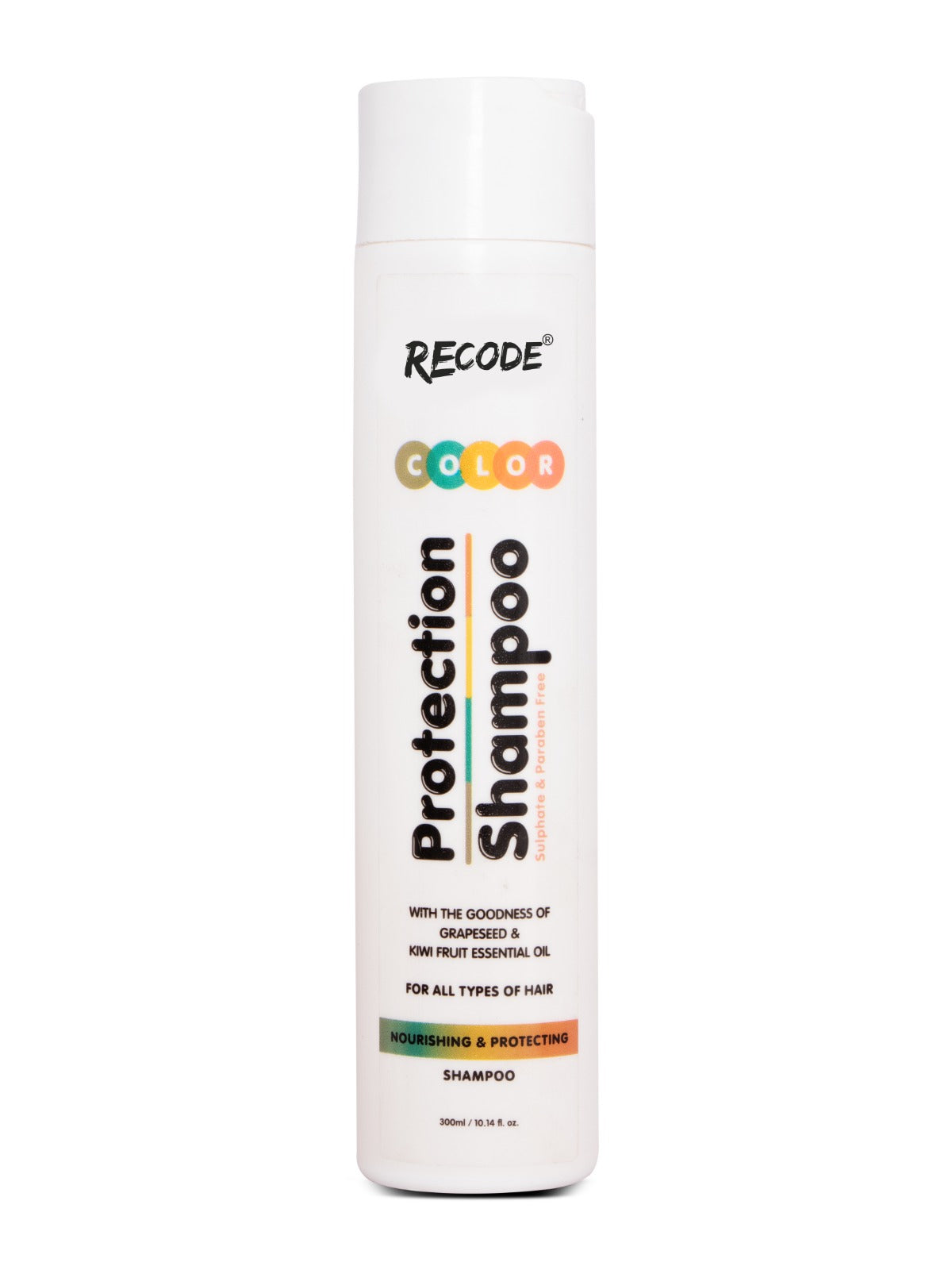 Recode Color Protection Shampoo - 300 ML
Sale price
Rs. 449.00
Regular price
Rs. 499.00
Tax included.
Guarantee safe & secure checkout
Estimated Delivery

Dec 07 - Dec 11

Shipping Information

Free shipping on orders over 500 INR.
65 people are viewing this right now
Recode Color Protection Shampoo - 300 ML
Sale price
Rs. 449.00
Regular price
Rs. 499.00
Product description
Shipping & Return
Say goodbye to dull and lifeless hair with Recode Color Protection Shampoo. The ultimate haircare solution infused with the power of Grape seed and Kiwi fruit essential oil. Our carefully crafted formula is designed to nourish, protect, and enhance the vibrancy of your colored hair.
Recode Color Protection Shampoo is a professional quality shampoo that lends radiant shine. It features extra mild formula for daily use, helps keep color bright and radiant every day. This product is crafted with herbal extracts and is free from silicones. It is a nutritive shampoo that nourishes dry, colored or highlighted hair deeply and helps restore its color and shine for a longer time.
Key Ingredients
 Infused with the power of Grape seed extract and Kiwi fruit Essential oil
Grape seed extract-: It makes wonderful for hair conditioning, adding shine and moisture, for those with a flaky, dry scalp, the omega-6 fatty acids found in grapeseed oil can improve these conditions, including dandruff.
Kiwi fruit extract-: Kiwi Seed Oil is also recommended as an emollient for your hair, restoring vitality to dry, brittle and damaged hair. Kiwi Seed Oil's high level of Alpha-Linolenic Acid (ALA) helps the hair strands retain moisture and prevents scaling, cracking and even dandruff problems.
Benefits of Recode Color Protecting Shampoo
Keep your hair looking fresh and vibrant.
keep your hair shiny.
Help to maintain the color so it doesn't fade or wash out quickly.
Key Features
Color preservation- : The advanced formula of recode color protecting shampoo help to lock in color and prevent fading. It protect hair from UV rays and environmental pollutants.
Gentle,Sulfate and Paraben free-: Recode color protecting shampoo is free from harsh sulfates, making it suitable for all hair types including color treated hair.
Revitalizes and Softens-: The rich formula revitalizes the hair leaving it soft, smooth and manageable. It help to combat dryness and frizz providing a silky finish.
Directions for use: Apply to wet hair and emulsify. Rinse thoroughly. Repeat if necessary.
Result-: Nourishes dry and dull hair deeply and help to restore its shine for a longer time
Caution: Avoid direct contact with eyes. In case of contact with eyes, rinse immediately.
 Recode color protecting Shampoo is the ultimate secret to vibrant and long-lasting hair . Our carefully selected ingredients nourish and protect your hair from the damaging effects of sun exposure, heat styling, and environmental pollutants. Experience luscious locks that radiate with brilliant shine, strength and health.
Say goodbye to fading and dullness and hello to salon-worthy results at home. Experience the luxurious blend of natural ingredients that will leave your hair feeling soft, healthy, and radiant.
Manufactured By : 
Truworth Healthcare Plot No – 95 , Sector 6 , IMT .Manesar (Gurugram) – 122052
M.L.No- 381-L-COS – (H)
Made in India 
Earliest Expiry : 07/2026

All prices on our site are displayed in Indian Rupee (INR), and will be charged in Indian Rupees. For delivery within India we use a ground based courier service, as liquid products cannot be sent by air.
Shipping within India can take up to 3-4 working days depending on what state or territory you live in and it takes 3 to 20 days to deliver your products depending upon services of third party courier company we use. 
COD service may not be available for certain pin codes. In such cases, our customer service team will be in touch with you while processing your order.

We do not currently ship internationally. However you may have your purchase delivered to any address within India.
Shipping Rates :
₹ 1 to 99.00 for COD ₹ 99.00

₹ 1 to 99.00 for for Prepaid ₹ 99.00

₹ 35.00 flat shipping charges on prepaid order from ₹100 to 498.00.

₹ 75.00 flat shipping charges on order below ₹ 99 to ₹ 499.00 for COD Orders.

₹ 35.00 flat shipping charges on order from ₹ 500.00 to 999.00 for COD orders.

Free Shipping : on all prepaid orders above ₹ 499.00

Free Shipping : on all orders above ₹ 1000.00 or above
The worst shampoo ever , paise waste apne isko shampoo ko lekarrr😡😡😡😡😡😡